Kashmir Houseboat Tour
Duration:
6 N 7 D
Tour cost:
14450/Person
Min:
2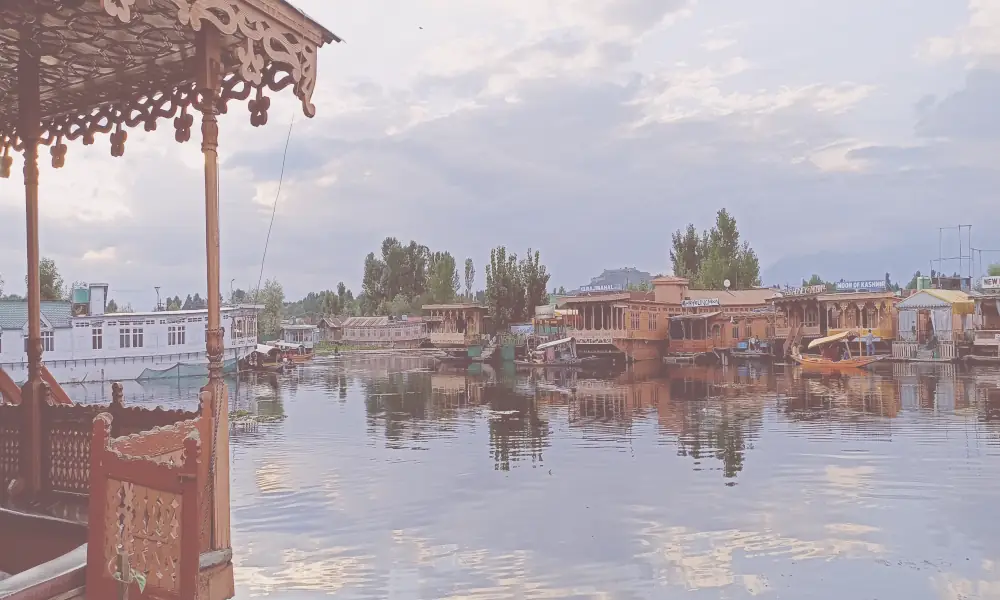 Day 1: Greetings from Srinagar, the City of Lakes. When you arrive at Srinagar Airport, our agent / driver will greet you and transport you to the Houseboat. After checking in, take a 2-hour Shikara ride over the beautiful Dal Lake to experience Srinagar's aquatic life. Shop for unique Papier-mâché and Walnut Wood items at the local crafts market. Return to the houseboat for a relaxing night's sleep.
Day 2: Visit the world-famous Mughal Gardens of Nishat Bagh (The Garden of Pleasure), Shalimar Bagh (Abode of Love), and Chasme Shahi Garden, as well as the Shankaracharya Temple, after breakfast.
Nishat Garden: Nishat Garden, Kashmir's second-largest Mughal garden, is located on the eastern side of Dal Lake and is a must-see attraction. Nishat Bagh is a terraced garden built in 1633 AD by Asaf Khan, the brother of Mughal Empress Noor Jahan.
Shalimar Bagh: The largest of Srinagar's three Mughal Gardens is the Shalimar Bagh. In 1619, Mughal Emperor Jahangir commissioned the beautiful garden for his wife Noor Jahan. Shalimar Bagh, also known as the Garden of Delight, is a three-terraced garden with Chini Khanas, or arched niches, as its main attraction.
Chashme Shahi is the smallest of Srinagar's three Mughal Gardens and is best known for its cold water spring, which is said to have medicinal properties. Mughal Emperor Shah Jahan built this popular garden as a gift for his elder son, Dara Shikoh.
Shankaracharaya Temple: The Jyeshteshwara Temple is also known as the Shankaracharya Temple. It is located on Srinagar's Shankaracharya Hill, which is part of the Zabarwan Range. The temple, which is 1,000 feet (300 metres) above the valley floor and overlooks Srinagar, is located at a height of 1,000 feet (300 metres).
Staying on the houseboat for the night.
Day 3: Another popular tourist destination in Kashmir is Sonmarg, a hill station located northeast of Srinagar. The name literally translates to 'Golden Meadow' and is set at an elevation of 9186 feet against scenic meadows and a clear blue sky. Sonmarg has beautiful walnut orchards and is surrounded by snow-capped mountains and alpine flowers. Ponies can be hired to take you up to the Thajiwas Glacier, which is a popular tourist attraction in the summer.
Staying on the houseboat for the night.
Day 4: Pahalgam, a picturesque hill station that embodies Kashmir's beauty, is a popular tourist destination in Kashmir. Pahalgam, also known as the Valley of Shepherds, is located at the confluence of the Lidder and Sheshnag rivers. The beautiful Baisaran Hills are located in this small town and are ideal for a family trek. After a rejuvenating hike, it is a great place to enjoy a meal with your family at this ideal picnic spot. Baisaran is known as 'Mini Switzerland' because of its long dark meadows and dense pine forest, which gives the meadow a green carpet look and contrasts with the surrounding mountains' snow-capped peaks. A trip to the meadow is truly a treat for the senses, and it is a popular tourist destination in Pahalgam.
Overnight stay at Pahalgam.
Day 5: We chose a Pahalgam sightseeing trip on this day, which presented us with a variety of sights ranging from snow-capped white regions to green-filled meadows, rocky terrains, and dense forests. It is only possible if you hire one of the local taxis. While private vehicles are permitted to travel to these locations without restriction, taxis from other parts of the state, such as Srinagar, are not permitted to these viewpoints.
Aru Valley, near Pahalgam, will be your first stop. It is well-known for its hiking and camping opportunities. This valley, at an elevation of 8,000 feet, offers breathtaking views all around. The drive through Aru Valley is a traveller's delight in and of itself.
The valley of Betaab will be the next stop. This valley was originally known as Hajan Valley and is located 15 kilometres from Pahalgam. This valley was shown extensively in the Hindi film "Betaab," and it is now known as "Betaab Valley." It's a lovely valley with mountains in the background and a lengthy valley through which a river flows. Along the river, a lovely park has been established. When the weather is nice and sunny, a whole day can be spent at the park enjoying in the landscape and watching the river run by.
Drive back to Srinagar in the evening and spend a delightful night on a houseboat.
Day 6: Gulmarg, a skier's paradise, is a must-see on any tourist's Kashmir itinerary. Gulmarg is an adventurer's paradise, with vivid flowers and snow-capped mountains. Stop for lunch at one of the local dhabas, and if the weather permits, go mountain biking, skiing, trekking, or gondola rides for a spectacular perspective of the valley.
Return to the houseboat for a relaxing night's sleep.
Day 7: Departure.